Effective Websites to Get More Customers and Grow Your Business
Your business can be successful online.
Not all websites are created equally.
The truth is most websites don't do anything for your business. Most web designers build great-looking sites that fall flat when it comes to getting more customers and growing your business.
The most important part of a website – the part that actually educates and moves leads through the sales process is the story. Your story.
The difference between an effective website and just another mediocre website that doesn't do anything could mean thousands of dollars lost or gained for your business.
With an effective website, you don't have to worry about:
Losing sales to a bad website.
An effective website is like having a salesperson on staff 24/7/365. Always ready to educate and inspire potential customers.
Not getting paid what you're worth.
You deserve to get paid what you're worth. To do that, your website and brand messaging need to reinforce the value of your services.
Marketing not working as well as it could.
Any marketing you're already doing is better than not marketing your business at all. You will get more ROI from any traffic driven to your website.
Trying hard to make the sale.
Making the sale is hard. Nobody wants to feel like they're just being sold too. The right message does the hard work for you.
Your business can be successful online.
An effective website will grow your business.
When your website and the right message work together in harmony, it's magnetic to new potential customers. You only have a limited amount of time before their minds are made up to reach out or spend their money elsewhere (6-8 seconds, tops).
Your business is unique and deserves the opportunity to serve your ideal client. We want them to choose you.
Get More Customers
Businesses with the right message get more customers, it's a fact.
Charge What You're Worth
The right message is what allows some businesses to ask for more $ for their services.
Proven ROI
The ways to get your message out there always change, the right message always works.
A new level of success for your business.
At Loveland Web Design, we know that people start their own businesses to solve a problem and have a great work/life balance. The way to be known as a problem solver, make more money, and have more success as a business owner is to know how to tell your story.
Most small business owners don't know how to tell their story in a way that gets people to want to do business with them. We believe that every small business owner deserves to be successful and live the lifestyle that they want to.
That's what we want for ourselves and that success is what we focus on creating for our clients. We do this by defining your brand message with a Brand Design Playbook, creating effective websites & lead generators, and driving traffic to your website.
Get a free consultation for your business so you can stop worrying about getting more customers, start making more money, and live the lifestyle that you want to.
Your website should move leads through the sales process.
This makes it a lot easier for you to close the sale.
You shouldn't have to educate everyone who calls about "who you are, what you do, and how to get your services". When the phone rings – they'll already know why. 
Get a free consultation for your business.
Get more ROI from your marketing
Charge more for your services
Stand out in the marketplace
Compete with bigger businesses
More success as a business owner
Change the future of your business in 3 easy steps.
This recipe works for virtually any business type.
1. Request A Quote
Fill out our short form with a little info on your business and goals for your new website.
2. Review Your Options
Multiple options are available to meet your budget and website goals.
3. We'll Handle The Rest
Get a custom proposal for your business with pricing options.
Let's make a plan for your business.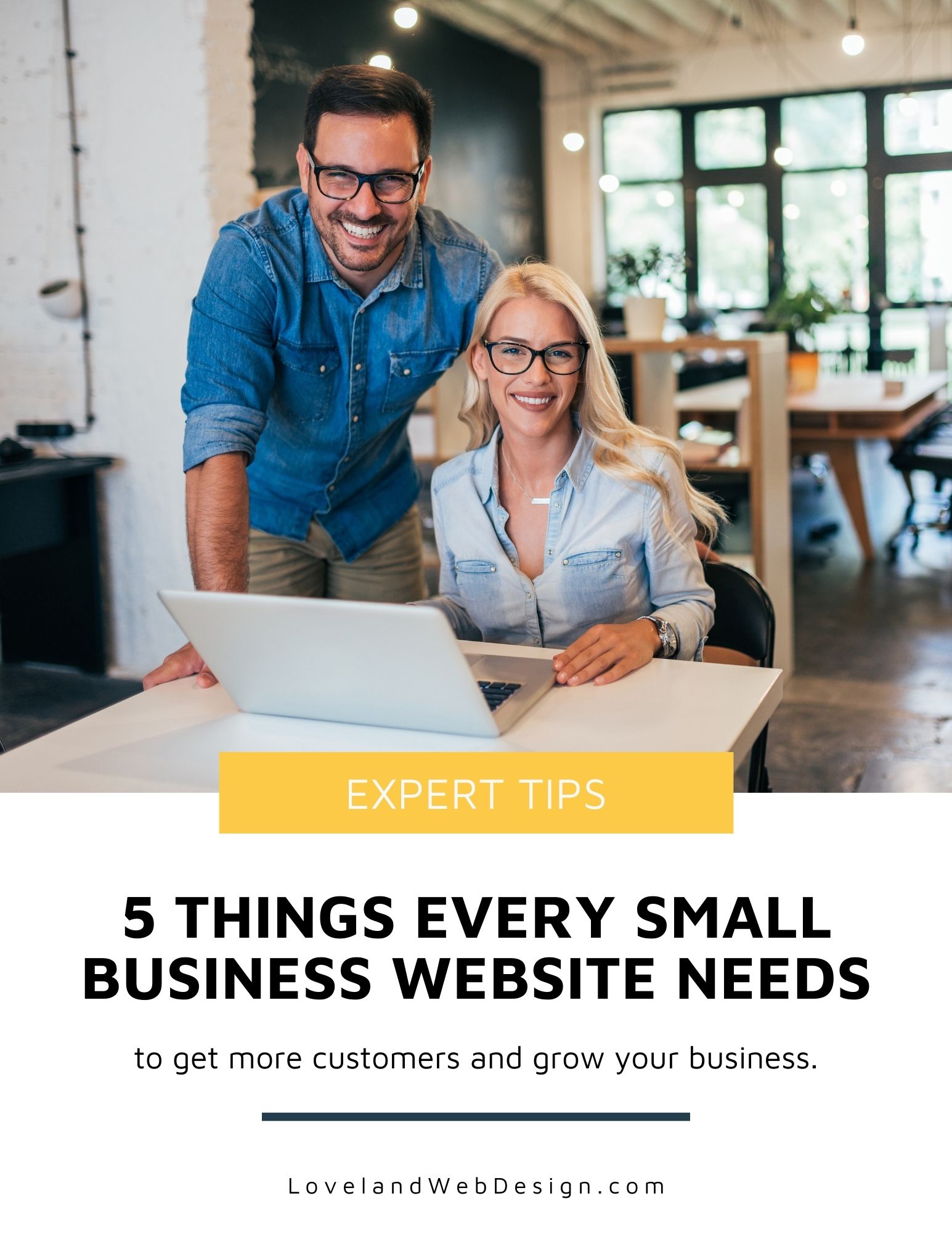 Maximize Your Website's Success: Discover How Now!
Download our free guide now to learn the 5 things every small business website needs to be more successful.
[/db_pb_signup]
Web design services in Loveland, Colorado.
It's time for your business to get more customers and grow.
ALL businesses are unique, have a story to tell, and deserve to be successful.
But not all websites are created equally. A website created with a focused goal to get more customers and help grow a business is an investment in the future of your business.
We don't want your business to have just another mediocre website in a sea of ineffective websites. An effective website gives your business an advantage over the competition, every time.
Our effective websites include:
A Brand Design Playbook
The most effective part of any website is the words. That's why a beautiful website alone won't get you new customers.
All of our websites include a Brand Design Playbook ($1,500 Value). We need to know exactly what to say on your website (and all of your marketing going forward) that is going to be the most efficient and effective.
Know what to say in your marketing
Brand design elements (fonts, colors, style board)
One-Liner that sells
Call-to-Action that sells
Keywords
Everything you need to better market your business going forward
A Lead Generating PDF
Every visitor to your website that isn't ready to reach out or schedule your services should have an opportunity to interact with your brand at their own pace.
You can still serve them by giving away valuable content that solves a problem in your field.
Educate people on the problem you solve
Build an email list
For customers who want to know more
For customers who aren't ready to reach out yet
Can be used outside of the website (physical handouts, events, or mailers)
A Design That Works.
Using your Brand Design Playbook, we create a website for your business designed to speak directly to your ideal client.
Every part of your website will focus on the problem you solve, for who, and how to take the next step.
Designed to get more customers
Grow your business
5 pages
Local SEO included
Can grow with your business
A Plan for the Future
To be the most effective, your website needs to be seen. You need to have a plan to drive traffic to the website in order to get more customers and grow your business.
We can help get more visitors to your website in a way that makes sense for your business.
Ads
Blogging
Google My Business
Review Management
Email Marketing
And more